On February 22nd 2020 I interviewed, on behalf of VeroRock.it, "The Aristocrats", who were completing their massive European tour – which started in November 2019 and ended up in February 2020 – to promote their latest studio release titled "You know what…?". The interview took place before their live performance at the Crossroads Live Club in Rome.
Hello guys and welcome to Rome! First of all, thank you so much for agreeing to be interviewed by me on behalf of VeroRock.it, the Italian online webzine since 2005. So, let us start the interview right away!
Which circumstances led to the birth of the band?
Bryan: Well, Marco and I had already played in several projects together, the most recent one before the birth of the band was a gig that we did in Russia as a trio with Greg Howe and I was invited to do a concert at the NAMM show (in 2011 at the LA Winter show – Ed.) and I thought, "well, this trio is ready to go! Let us do it" with me, Marco and Greg but then Greg had to cancel kind of late and Marco and I had been hearing about Guthrie but we did not know him personally so we had a conversation and thought "maybe we should just write Guthrie an e-mail and see if he wants to play with us" and he said "yes!". And then we played with him one gig with one rehearsal and the response was really good and we could tell by the reaction of the audience and also the reaction amongst ourselves that something special was happening and then we decided to make an album and form a band and see what would happen. And nine years later here we are!
(NAMM is the acronym for National Association of Music Merchants, an annual trade-only event for the music products, professional audio and event technology industry which takes place in Anaheim, CA – Ed.)
Whose idea was it to call yourselves "The Aristocrats"?
Guthrie: That was my fault! (everybody laughs). Perhaps you readers who follow us are familiar with the joke of the same name ("The Aristocrats" is a notorious off-color joke which defies all kinds of taboos, Ed.). When we were exchanging demos and song ideas for the first album some of the song titles seemed a little provocative so interest came to me in a joking way and I e-mailed the guys and said: "how about this for a band name?".
VeroRock.it: And they accepted it.
Guthrie: We had no choice!
At what age did you play your first instrument and which one was it?
Marco: Very cool! When I was like five years old I first played an organ with foot base, that was my first instrument pretty much.
Bryan: Classical piano at the age of eight. After that, I switched to acoustic bass at the age of ten and finally electric bass at age thirteen. I started really late!
Guthrie: I do not remember… they tell me I was three when I first started playing guitar, that was a long time ago!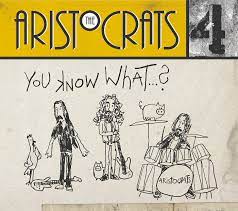 What made you become professional musicians? Which artist or band were you inspired by?
Marco: The band Queen! When I was six years old and my parents put on their records hearing songs like "We will rock you" and "We are the champions" made me literally go into music and say: "I want to become a musician and be like them!"
Bryan: Led Zeppelin, Yes, Pink Floyd, Metallica and then also for me you know…
Marco: Metallica! (Bryan laughs)
Bryan: … Jaco Pastorius and Frank Zappa was my kind of gateway into anything resembling fusion. And Chick Corea as well!
Guthrie: I grew up with my parents' record collection of fifties rock and roll and with bands such as Cream, Beatles, Jimi Hendrix, that kind of thing. I do not think that is why I ended up playing music for a living, I do not think it is just because of any band in particular, that is just because you are reaching a point where you realize "I do not have any choice, this is what I have to do!".
VeroRock.it: And you are doing it quite well! (everybody laughs)
Which projects were you involved in and/or which artists did you collaborate with before forming "The Aristocrats"?
Marco: Steven Wilson, Necrophagist, Kreator, Nina Hagen, Gianna Nannini, Freaky Fuckin' Weirdoz, H-Blockx, Udo Lindenberg. Who else? The Buddy Rich Big Band who played actually with me once which was awesome and Paul Gilbert, another guitar player. That is what comes to mind instantly right now, there are probably others but once you "google" it, you will find more!
Bryan: Steve Vai, Mike Keneally, Wayne Kramer from the MC5, James LaBrie and Dethklock. Joe Satriani but that happened in the same time as The Aristocrats.
VeroRock.it: Asia as for Guthrie! Silent Nation, a fantastic album!
Guthrie: Uh, you said it so I did not have to! And then, I played with a rapper called Dizzee Rascal who is a big deal in UK and a techno band called The Young Punx and some other stuff other than Asia but I do not think they will excite you as much!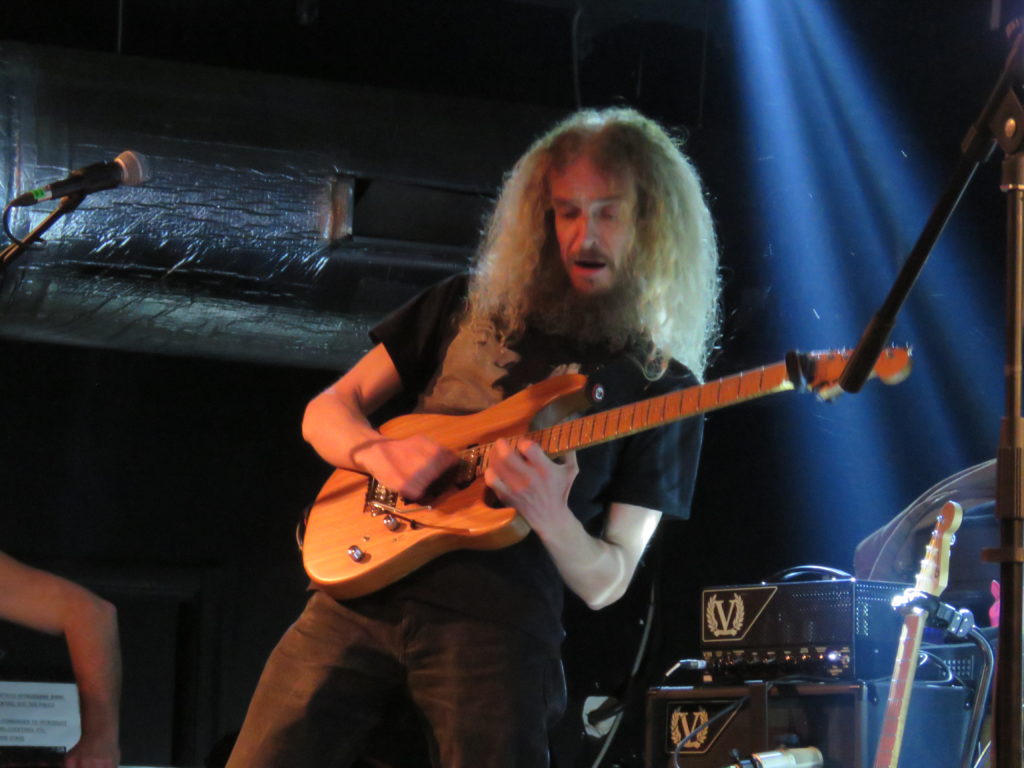 Which of your numerous previous (or present) collaborations do you consider the most exciting (professionally and personally) and why?
Bryan: That can be a very long answer so I will try and keep it really short. There is a band called Dethklok, I love metal and I got to be in a metal band and that experience was super fun! And there is an artist named Mike Keneally who I have been playing with for twenty-five years on and off: he is a very interesting and eclectic artist with whom I got to explore a lot of different styles (Bryan's new double progressive concept album "Scenes From The Flood" is out now and features, among others, Mike Keneally and Gene Hoglan of Dethklok – Ed.).
Marco: I would say I am working with a guy called Randy McStine with whom I am writing an album together right now, which is going to be released in a few months (pre-sales for the project called "McStine and Minneman" will start on May 1st – Ed.). It is the best thing I have released in quite a while as a collaboration, that was very cool! And also I did an album with… I forgot his name but it was really good! The album is called "Mahandi" with Mohini Dey on bass, Jordan Rudess on piano and Jimi Haslip was part of it as a partial production and one guy from the Red Hot Chilli Peppers band, that is John Frusciante.
Guthrie: His name is Dewa Budjana!
Marco: Thank you! Dewa Budjana! That was a very good album, we were very happy with the outcome. These are the most recent ones that come to mind right now.
Guthrie: Hans Zimmer. I had fun doing that! (since 2016 Guthrie is touring worldwide as the lead guitarist for the Hans Zimmer Live ensemble – Ed.)
How would you describe your music and sound to audiences who are about to approach your songs for the first time?
Guthrie: Asia! (everybody laughs).
Bryan: Rock fusion. It gives you the element of like, you know, we are playing instrumental music and there is improvisational stuff going on but we are not a jazz band, we are not a swing outfit.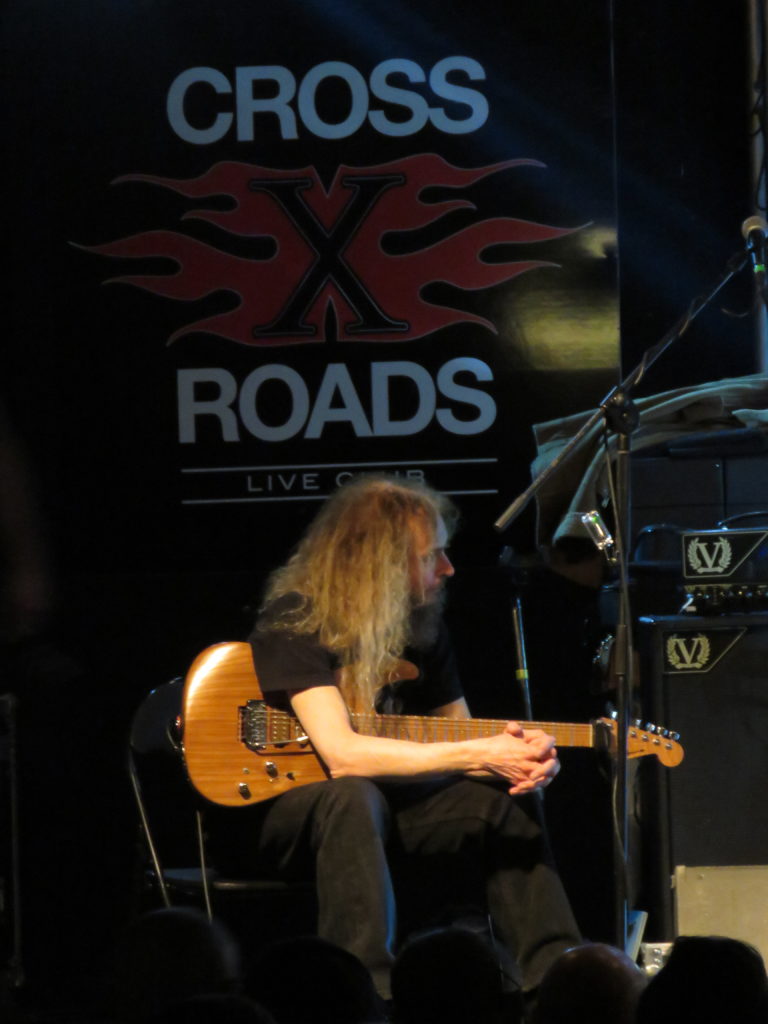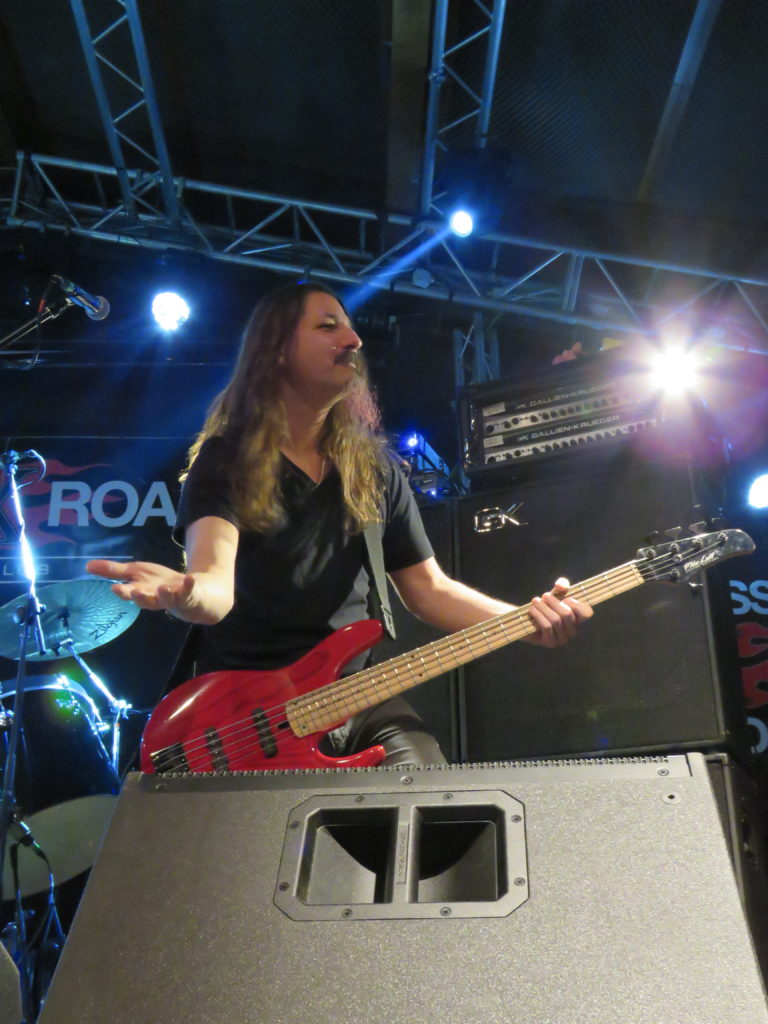 Watching your live performances one notices a strong cohesiveness and, at the same time, the freedom to express yourselves technically. To what extent do you agree with this assumption?
Bryan: I disagree completely! (everyone laughs). Just kidding!
Guthrie: It is not really for us to decide. We just do what we do and then let the people who listen or watch decide by themselves.
How was your latest album "You know what…?" received by the audience and the critics? Who drew the funny album cover?
Marco: The album artwork was drawn by Hajo Müller who I met through Steven Wilson. He actually worked on a few projects of me and my solo albums (actually one solo album he did with me) and he is a very nice and talented guy and I thought it might be kind of cool thing to have a caricature of us in his sort of way along with the chicken and the pig. The album itself was well received by the audience, you can feel that when you play the new songs. You know, usually people react to the old material that worked and they cannot wait to hear your older stuff: we feel that the new songs are getting the same reception as the older material and the people love listening to the album it seems and come already prepared and want to hear some of the tracks, so that is a cool thing!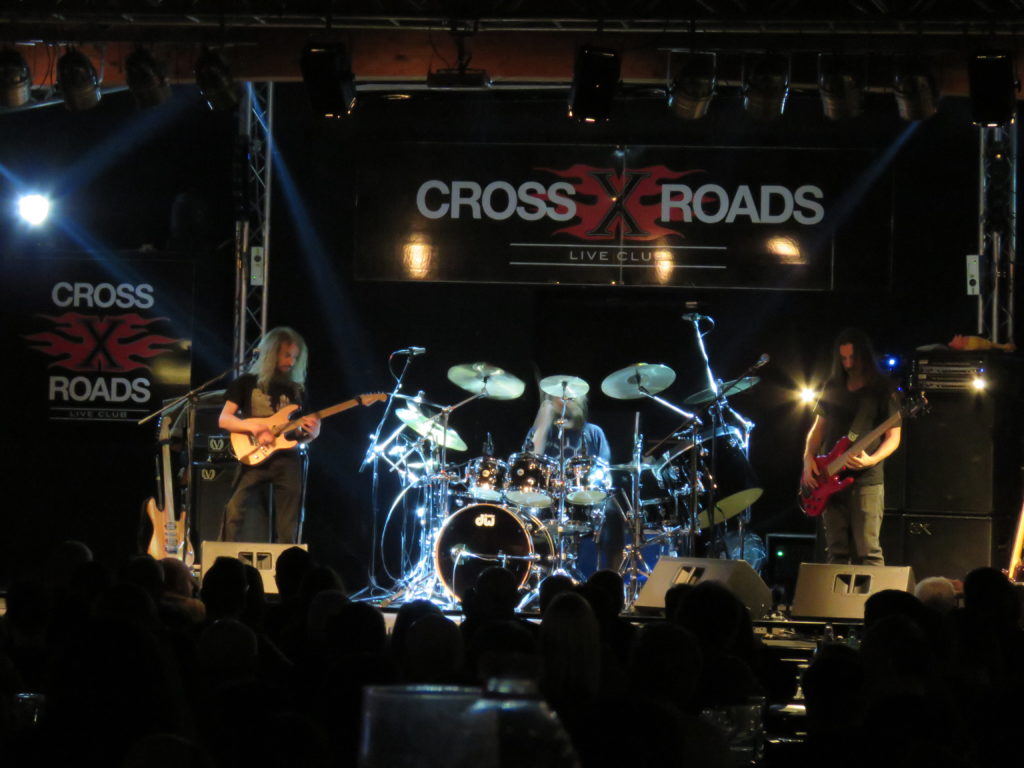 How long did it take to write and record it and how did the sound change with respect to the previous albums?
Marco: The writing process is usually the same recipe we're entraining over the past years. Each of us individually brings in complete songs, we learn and rehearse them and then record the tracks in the studio. The sound that Brotheryn (Studios of Ojai, California, Ed.) delivered was very much to our liking. Acoustically we've got immediately pleasing results in the rooms the studio provides. It just fit to the music without having to do much additional work. Furthermore the environment and location was just very chill and added to the recording comfort. Basically we were able to concentrate on making exactly the record we've envisioned.
Most of the songs on your albums bear individual signatures. To what extent are your songs the outcome of an individual or a collective effort? What is the actual involvement of each musician in a song written by another member?
Bryan: We each write and demo our songs individually, at our homes, before we get together in the studio. We all live quite far apart so we can't just get together in a studio and jam. But we also stumbled onto this formula right from the first album: we each contribute three songs of our own and make complete demos for them. Then, once we get together in the studio and record them – and especially when we play them live 100 times – then each band member adds their particular spice to the composition, and they all become Aristocrats songs. That said, a careful listener might be able to determine a songs compositional origin… though I have to also say, we've played that game with our fans when our new albums come out – "try and guess who wrote what song!" – and most people don't get it right, which is strangely pleasing!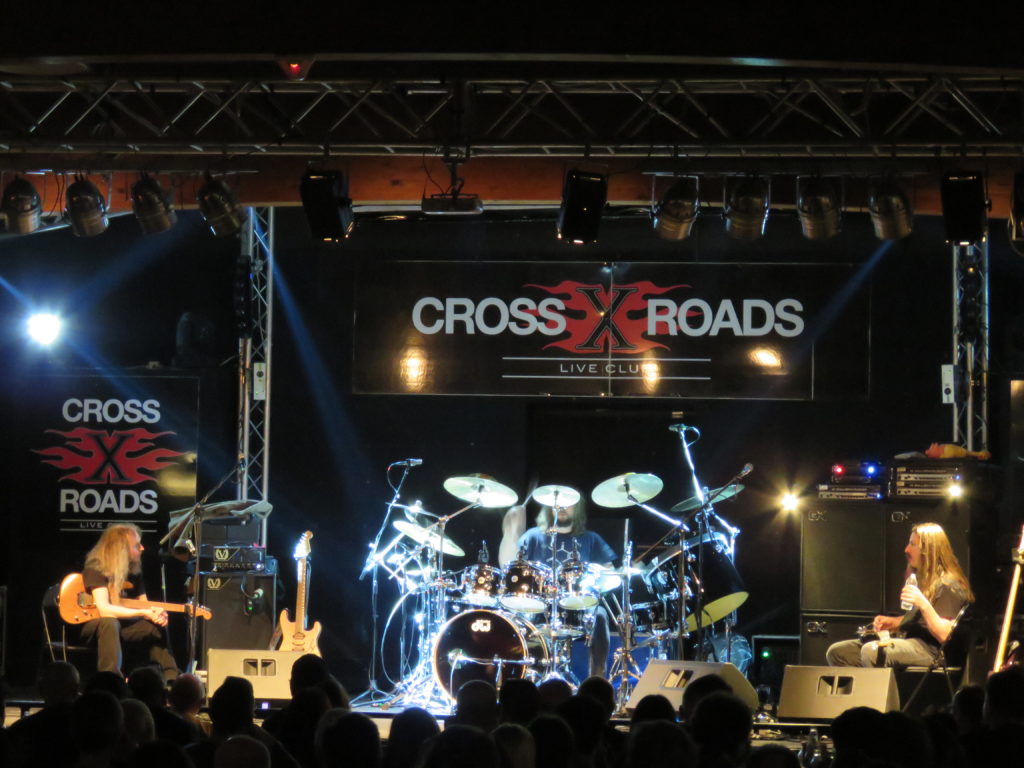 Is the band's trademark the result of a balance between its technical level and the inventiveness of the writings?
Guthrie: We've never really made any serious effort to define what we do in that way and, from the perspective of creativity, I think it could even be counter-productive for us to over-analyse such things… Arguably, the "pig and chicken" cameo appearances during our live shows are actually the closest thing we have to a trademark!
"Technical level" certainly isn't something which we're consciously trying to showcase, other than in the sense that there can be something liberating and fun about being able to play an instrument proficiently. As for the way we write… I think the main driving force behind our trio is simply the way we interact when we play together and we're all happy to trust that this "chemistry" will shine through, regardless of whatever playful juxtaposition of genres we might be exploring in any given song. Over the years, this realisation has probably made us bolder and more adventurous in the way we write for our trio but the evolution of the band's sound has always happened organically – our only conscious input into that whole process has been in the form of a desire to prioritise songs over gratuitous displays of musicianship… and to translate the fun which we have playing together into something which an audience can (hopefully!) appreciate and enjoy.
"The Aristocrats" is becoming a familiar brand in the music business. What are the right ingredients to become successful today?
Bryan: If there was a guaranteed recipe to success in the music business, and we knew it, we would be making it and selling it in bottles by the truckload! Unfortunately, we don't know that recipe, and personally I don't think anyone does, not even the people who say they do. In the end, in my view, the most important thing is to be true to yourself and do something you're passionate about. The artistic output has to have integrity first. Then, once you have something to tell people about, tell them about it as effectively as possible. Then, if you're fortunate enough to have people want to spend money on it, try not to spend more than you make. I know that might sound trite, but it all does kind of boil down to that.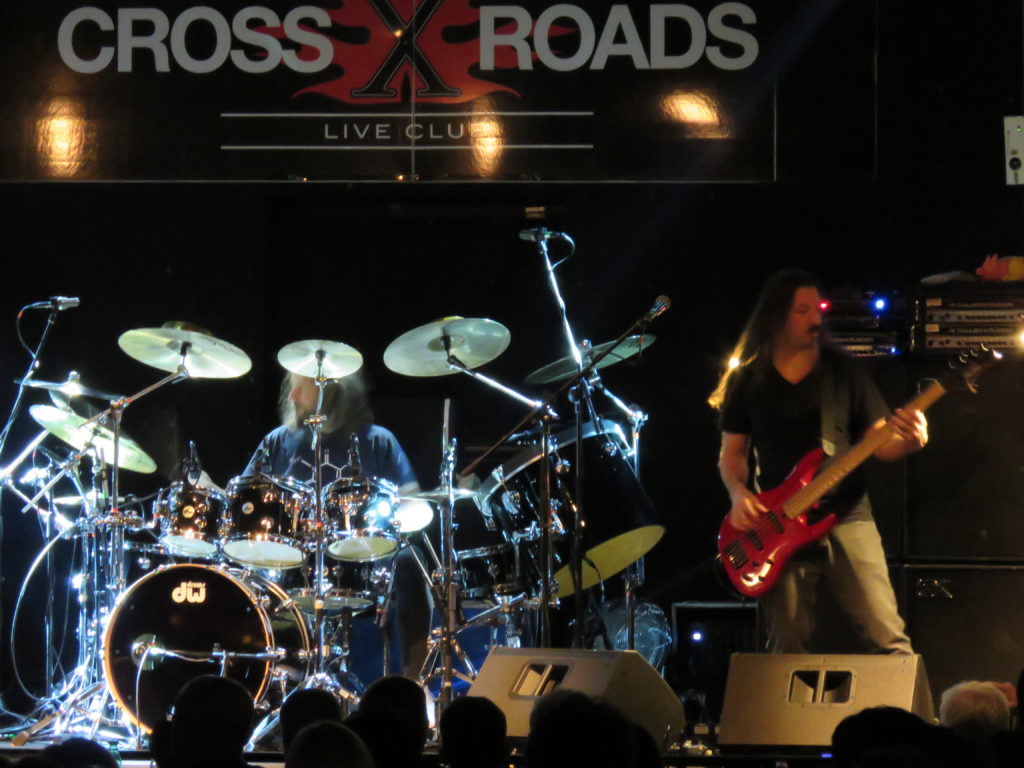 How is the life of an artist on the road?
Guthrie: That depends largely on the road! I think all three of us have experienced the whole spectrum of touring life, and know what it's like to travel both in the front of an aeroplane and in the back of a van…
Each individual touring operation will bring its own level of comfort or hardship – I can attest that playing a summer festival circuit with a charting pop act feels nothing like the experience of trying to launch a new instrumental fusion project! – but I suppose there is one constant factor: any level of touring can take you away from your home for significant periods of time. Successfully adjusting to that requires you, in a sense, to create an internalised version of the concept of "home" which you can take with you on your travels… if you're unable to find an effective way of achieving that, touring life probably isn't the life for you!
After a while, you learn what you really need on a daily basis in order to maintain your spiritual and physical wellbeing on the road… and then you just have to do your best to adapt your daily routine so that it reflects and accommodates those needs, whatever they may be. (The details obviously vary depending on both the touring environment and the individual…) Personally, I always find it helpful to remind myself that being able to travel the world, experiencing different cultures/climates/cuisines etc, is much more of a blessing than a curse – particularly when it brings you nightly opportunities to entertain a crowd of people simply by doing something as enjoyable as making music!
Music-themed cruises are quite fashionable nowadays. Would you fancy the idea of joining one as a band and is there a possibility to see you aboard one of the numerous that are planned each year (such as Cruise To The Edge, On The Blue Cruise, Monsters Of Rock Cruise, Blue Note At Sea)? (Marco already took part to the previous CTTE as the drummer, among others, for the Steve Hackett band – Ed.)
Marco: Indeed I was part of the CTTE and also of the On The Blue Cruise, back to back in 2019, with three bands indeed. CTTE I've played with In Continuum, The Sea Within and Steve Hackett, On The Blue cruise just with Steve Hackett (as the other two bands were not part of this last cruise – Ed.).
Personally I've had lots of fun on both cruises and would do an adventure like that anytime again, including with "The Aristocrats".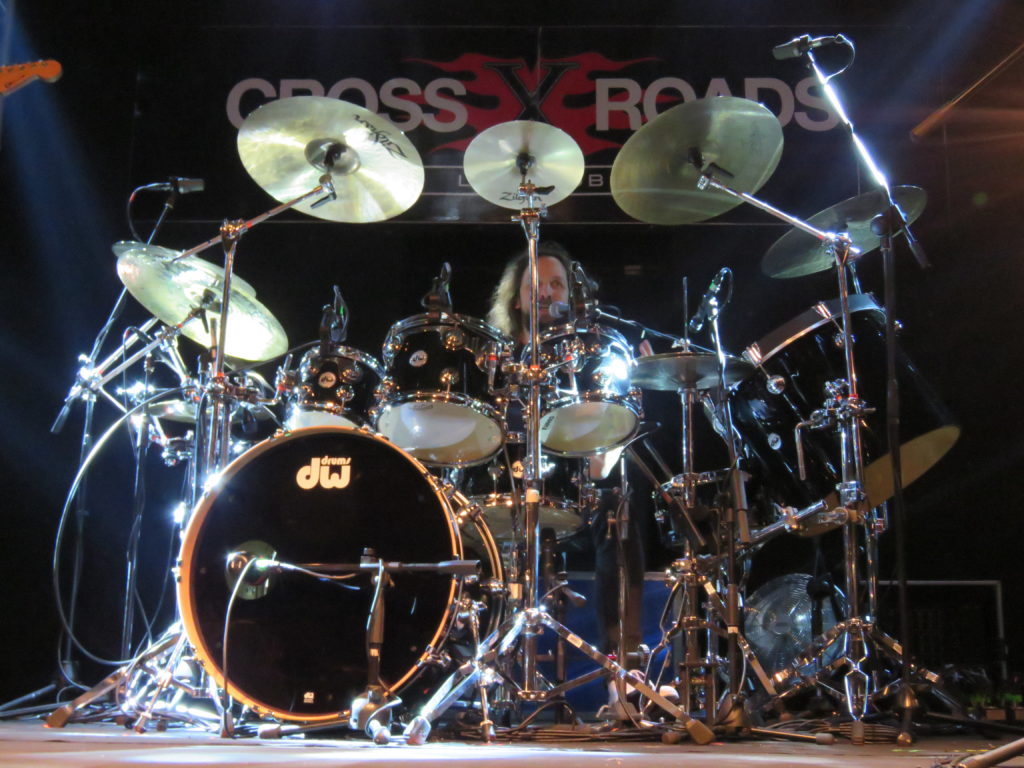 Which artist or band do you feel the most exciting to listen to?
Bryan: I would shy away from saying "most exciting", but I can say that lately I've been enjoying St. Vincent's self-titled album, as well as Psychedelic Porn Crumpets' "High Visceral, Pt. 1", Big Wreck's "…but for the sun", and the new Nine Inch Nails volumes of the "Ghosts" series (V and VI).
Marco: I'm a huge Queen fan, and everything from Queen II until The Game I'll probably never get tired of listening to.
Guthrie: Right now, I'm not feeling any particular need for "excitement" in my listening diet – I currently seem to be in the middle of a phase where I'm mainly turning to music for its more soothing/meditative qualities – so I'm not sure how to answer that question.
Which artist or band would you consider the most challenging to play in or collaborate with?
Bryan: I think it would be pretty challenging to play with Lil Uzi Vert (OK, I admit, I picked at random from the current Billboard Top 100)!
Marco: Interesting question: Let's stick to musically challenging, hmm, I remember it was quite intense touring with Necrophagist as the material is very dense and has a lot of physical energy and changes. But, it was a lot of fun.
Guthrie: For me, the playing situations which felt the most challenging have generally been the ones where I needed to develop my own way of "belonging" in the music and complementing it. Any technically complex piece of music will eventually become playable if you're prepared to spend enough time really working on it but… when I started playing with Dizzee Rascal or Hans Zimmer, part of my mission was to find a way of incorporating guitar into a repertoire of music which didn't originally feature that instrument at all (and evidently didn't need it, as the music had already achieved a lot of success and popularity without any kind of guitar presence!) In the earliest days of each of those collaborations, I remember experiencing some somewhat "dark" moments, wondering whether my mission was even possible and feeling concerned and worried that anything I might contribute would only make the music sound worse… so the biggest challenge there lay in maintaining my confidence and eventually "finding a way".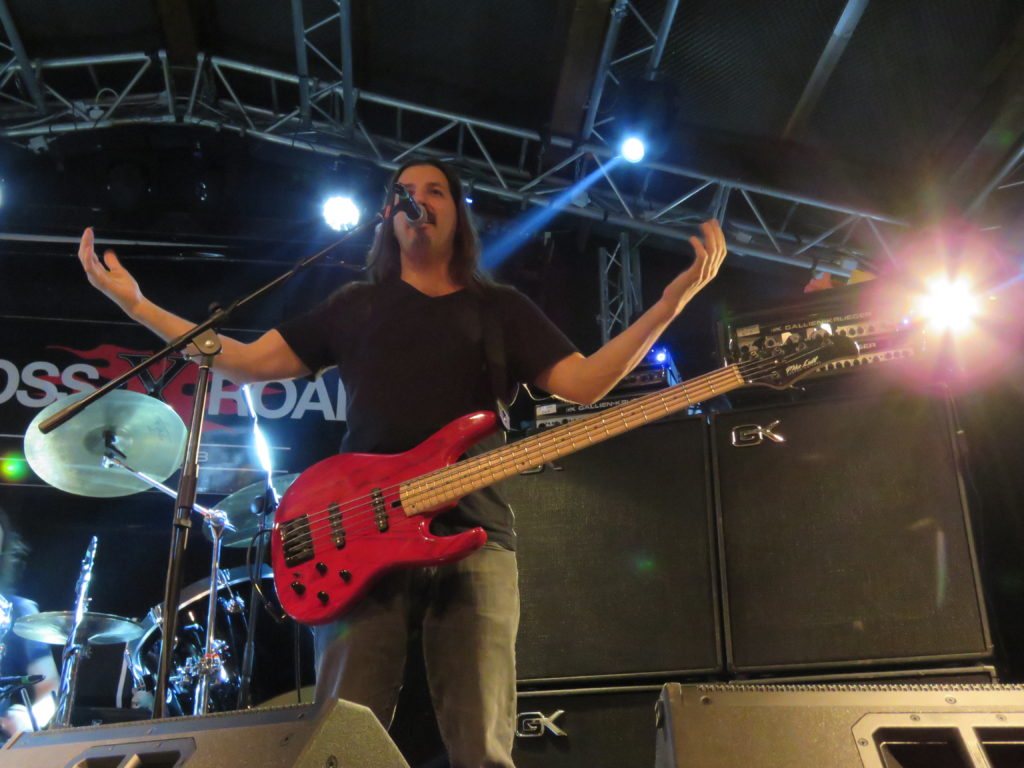 Any future plans to enrich the sound by adding a keyboard or a woodwind section?
Bryan: Maybe we should add a single oboe. Who doesn't love the sound of an oboe?
Marco: Well, we're already using keyboard parts, piano and other instruments as you can hear on some of the recordings. But adding musicians to the Aristocrats, unlikely, as the trio concept works out for us pretty well I'd say.
Guthrie: Well – thank you for not asking when we're going to add a vocalist! In all seriousness, though… I'd say that the raw trio format actually has two real strengths which would be compromised by the addition of any additional musicians. Firstly, there's the logistical aspect – we've been able to tour in all kinds of places where a larger lineup would have proved to be totally impractical. Secondly (and perhaps even more importantly) I think there's more scope for spontaneous interaction with a smaller number of musicians. When I'm playing with Bryan and Marco, I feel like each of us is totally aware of the other two at all times, which allows us to take more musical risks and incorporate more spontaneous little "surprises" into our performance: the more personalities you have in a band, the more difficult it can be to preserve that level of improvisational freedom.
One last question: what are your main non-musical interests or hobbies?
Bryan: I love hiking and spending time in remote mountain areas.
Marco: I really like playing table tennis and recently got also quite enthusiastic about cooking. These are the enjoyable hobbies that my girlfriend and I now can focus on during the hopefully soon improving pandemic.
Guthrie: Beer probably deserves to be mentioned here!
Thank you guys for sharing your thoughts and amusing stories with VeroRock.it. See you next time hoping that after the end of the tour a live album will follow!