COMUNICATO STAMPA
La scorsa settimana Michael Schenker ha pubblicato il suo nuovo album a nome MSG "Immortal" su Nuclear Blast. Il disco è entrato nelle classifiche di tutto il mondo, piazzandosi tra l'altro nelle top 10 di Giappone (#3), Germania (#8), Svizzera (#8) e Svezia (#8). "Sono completamente senza parole per tutte le fantastiche reazioni e l'incredibile feedback nei confronti del nostro nuovo album. È una sensazione pazzesca vedere che i fan hanno seguito la mia musica per cinquant'anni e supportano i nostri dischi in tutto il mondo. Sono senza parole per il fatto che 'Immortal' sia persino entrato nella Top 10 nella mia madre patria, la Germania. Grazie a tutti, rock on", commenta Michael Schenker.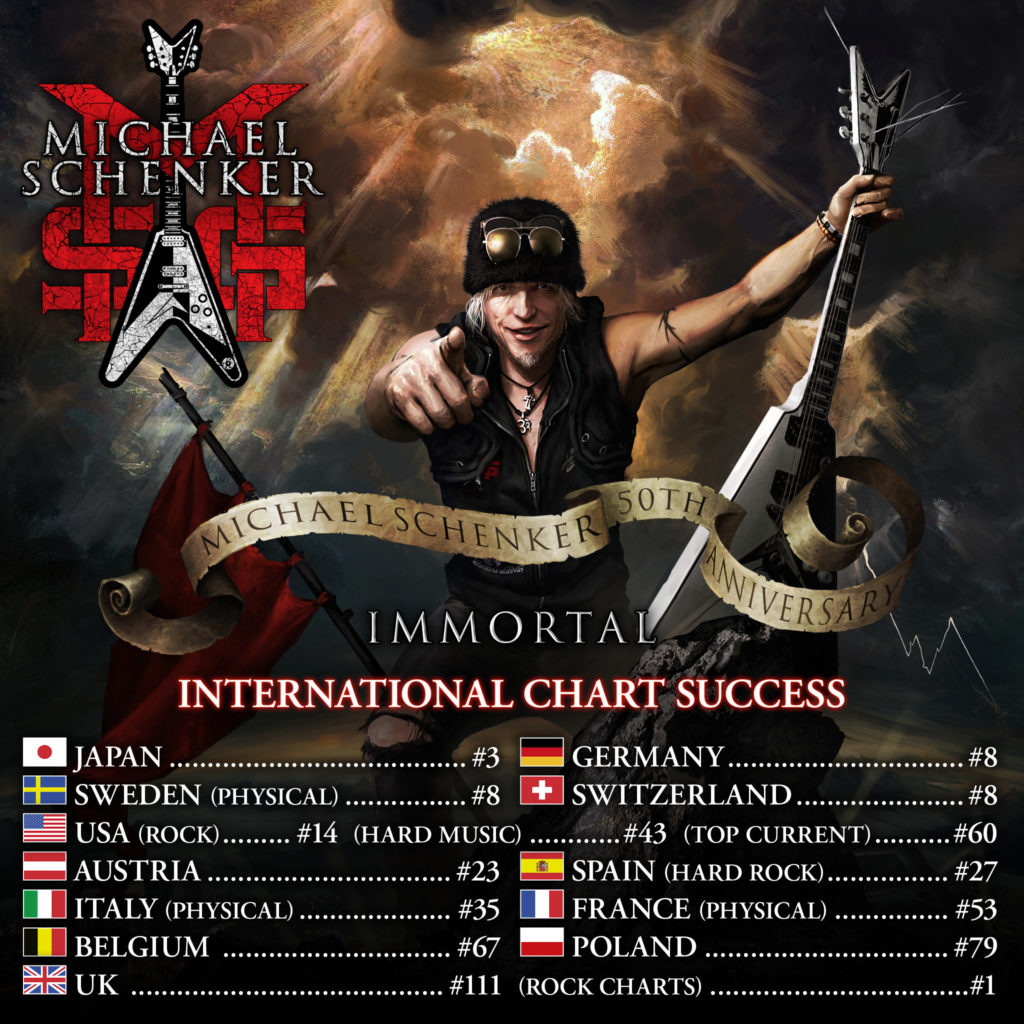 Di seguito i risultati delle classifiche:
#3 Giappone
#8 Germania
#8 Svezia (fisico)
#8 Svizzera
#14 USA (Rock) / #3 Hard Music / #43 Top Current
#23 Austria
#27 Spagna
#35 Italia (fisico)
#53 Francia (fisico)
#67 Belgio
#79 Polonia
#111 Regno Unito / #1 Rock Charts
"Immortal" è una dichiarazione perfetta per descrivere l'eredità di Michael Schenker e per celebrare il suo 50° anniversario come musicista. Per festeggiarne l'uscita, MSG ha pubblicato il video del singolo 'In Search Of The Peace Of Mind'.
https://youtu.be/5gy69onDzXQ

"Immortal" è disponibile in svariati formati: http://nblast.de/MSG-Immortal

Michael Schenker
"50th Anniversary – IMMORTAL"
suonato da MSG/Michael Schenker Group
04.11.2021 Moncalieri (TO), Audiodrome
Biglietti: https://www.dragon-productions.eu/bands/michael-schenker/