Prepare to embark on a musical journey with the quite brand new Swedish band Remedy. With their unique interpretation of Hard Rock style, Remedy has been making waves in the music scene, captivating audiences with their clean sound and electrifying performances. In this exclusive interview, we delve into the creative minds behind the band, uncovering the inspiration and innovation that drive their remarkable music. Here with us, Roland Forsman, founder, producer and guitarrist of the band!
Hello Roland! Can you tell us about the origins of Remedy? How did the band come together, and what inspired the formation?
Remedy truly was my remedy in a difficult time. I had lost all my jobs as a musician due to the pandemic and all the restrictions. At first I did nothing, and I almost lost my passion for music. But after a while I started writing music. At first for other bands and artists, but after a while I started keeping some of the songs to myself.  That was the starting point for Remedy. I then got a record deal  and put together a band with good friends and great musicians.
Remedy is quite recent, but your debut album has been well welcomed by everybody. What can fans expect from your next album or project, and how does it differ from your previous work and when do you think it will be released?
We are truly overwhelmed by the reviews and all the great feedback we've been getting. Thank you all!  That gives us energy and inspiration to create new music. I don't know when this interview will be  released, but on November 24th there will be a new Remedy song out for you all to listen to! And by next spring, there will be a whole new album! So there will be a lot of things happening regarding REMEDY these months to come. The foundation of our music will be the same on our next album.  But we will try to establish a more unique sound moving on. Adding new instruments and some darker riffs. Hopefully people  will like it!
Are there any particular themes or concepts that you explore in your music? What inspires your songwriting?
I tend to write about life and the things happening. Good and bad, happy and sad. Everything that goes on in my life. At least that goes for the lyrics. Regarding the music, riffs and our sound the inspiration is found in great bands from the eighties like Foreigner, Rainbow, Bon Jovi, Survivor and so on. I love those bands and try to  handle their legacy with care and pass on some new music to the next generation.
How has the Swedish Hard Rock scene influenced your music, and do you see yourselves as part of a particular subgenre or movement?
Very  much!  I grew up in Finland and have been influenced by Europe, John Norum and Yngwie Malmsteen growing up. Fantastic music! And after moving to Sweden I got a dose of great newer bands to listen to, like "Eclipse" for instance. I hope that melodic rock will become more mainstream  moving on, and not just a subgenre. I mean, we have a lot of really great bands here in Sweden creating great music and selling out big venues.  And I can see a change in what the youth listens to, much thanks to  series like "Cobra Kai", "Stranger Things" and the Marvel movies. Hopefully this a start of a bigger movement, and I would love to see REMEDY being a part of that.
Could you share some insights into your creative process as a band? How do you collaborate on writing and composing your songs?
I mainly write the songs with my buddy Sören Kronqvist, who's an excellent songwriter. But some of the songs I write and produce myself, although I enjoy co- writing with others more than writing on my own.  I'm a "doer". So if I need to get a new song made by a thigh deadline, I will do so. After writing the song,  and making a demo, I will envolve the rest of the band and we will record it. We are currently right in the middle of that process. Very exciting times for me!
Remedy has played different live shows and festivals last summer. Do you have any memorable stories or experiences from your performances that stand out?
Yes, we did a big summer tour in Sweden together with tAKIDA. It was awesome! The memory that stands out, looking back on REMEDY's first summer, is when we played at Dalhalla the day after KISS. I mean… the venue is amazing, 5000 people in a cave, and KISS were there a few hours prior to us. Mindblowing.
On the 9th of October there has been the release of your new clip "Living on the Edge"… is there a particular reason to have released it 10 months after your debut album? Maybe because it collects scenes of your previous live shows?
We've always liked the song. It was that song that got us the record deal. And it is also the song that the audience seem to like the most, so we decided that that song needed a video before we move on to new music. I am happy with how it turned out. It truly gives you insight into who we really are.
What are your future plans and goals for Remedy? Any upcoming tours, collaborations, or exciting projects on the horizon?
Right now it's just songwriting and studio that are on the agenda. But sure, we have plans. New music, new videos, new tours and so on… So stay tuned!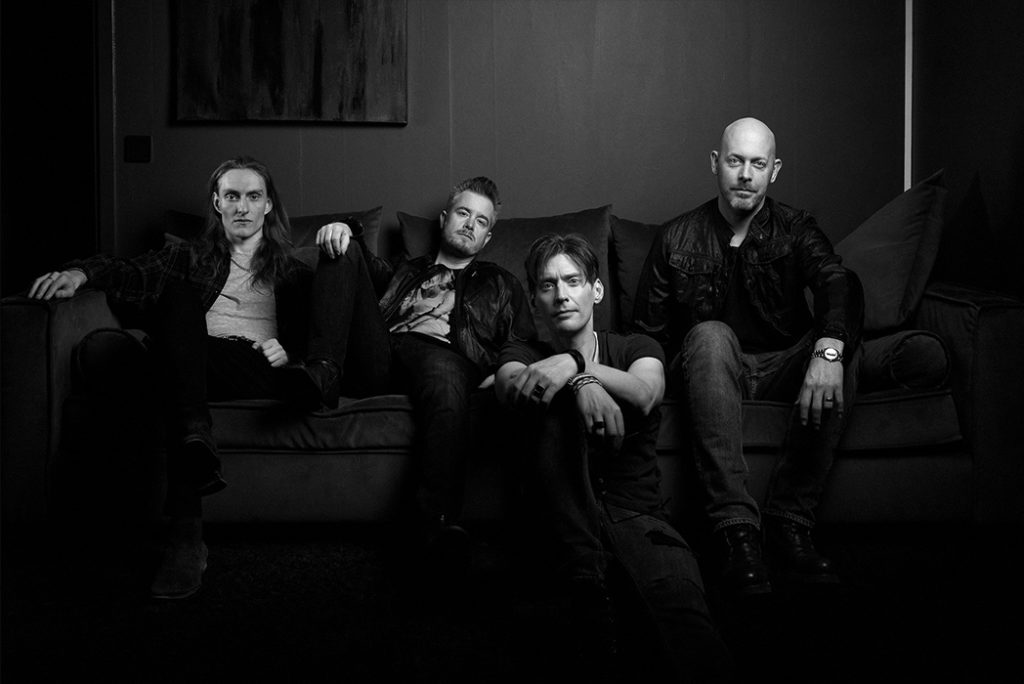 As musicians, you must have encountered challenges along the way. How do you navigate these challenges and continue to grow as a band?
The hard thing today is to manage to "break the noise" and be unique.  So that I think is REMEDY's biggest challenge moving on. Find our own identity. As a musician I am really comfortable we're I am at the moment. And REMEDY is the reason for that.  I'm not in it for money, fame or fortune… REMEDY's is only about creating music that I personally love, and hopefully someone else will like it and be inspired to start their own band, or create their own music, or start playing guitar or whatever.  Pass on some good energy to the next guy or girl.
Would you like to send a message to the Italian fans? That's the right time! 🙂
Yes! We would love to visit your beautiful country and play our music for you all! But for that to happen we need to get going. If you like our music, please follow us on social media @remedymusicsweden and on Spotify. It won't cost a dime but will truly help us a lot here in the start!
Thank you for this interview, it was  a pleasure!