COMUNICATO STAMPA
L'attesa è finita!  Good Music e ERocks Production, in collaborazione con Hellfire Booking, svelano il nome degli Headliner che saliranno sul palco del PhenomeRock Fest il 9 Luglio.

Si tratta degli svedesi At The Gates, in Italia per presentare uno show unico che ripercorrerà le tappe più importanti della loro carriera, portando sul palco tutti i brani più famosi da Slaughter of The Soul a Into The Dead Sky, fino a quelli contenuti nel loro ultimo album  The Nightmare of Being.

Un altro nome si aggiunge dunque alla line-up del festival che si terrà nei giorni 8/9/10 Luglio nella splendida location del Phenomenon Live Club a Fontaneto D' Agogna (NO).

Ticket, prevendite e abbonamenti a questo link:
https://dice.fm/search?query=phenomerock%20fest

Vi invitiamo a seguire l' evento Facebook: https://fb.me/e/9ldtDOqBu
AT THE GATES
Maestri indiscussi del death metal svedese, gli At The Gates hanno sempre avuto una forza creativa senza eguali. La band, nata a Göteborg nel 1990 diventa ben presto una delle più influenti realtà del metal estremo. Questo li spinge rapidamente ad essere considerati un gruppo all'avanguardia nella scena underground. Negli anni che seguirono, hanno poi dimostrato un'intensità ed una fame artistica che pochi dei loro i contemporanei possono tuttora eguagliare.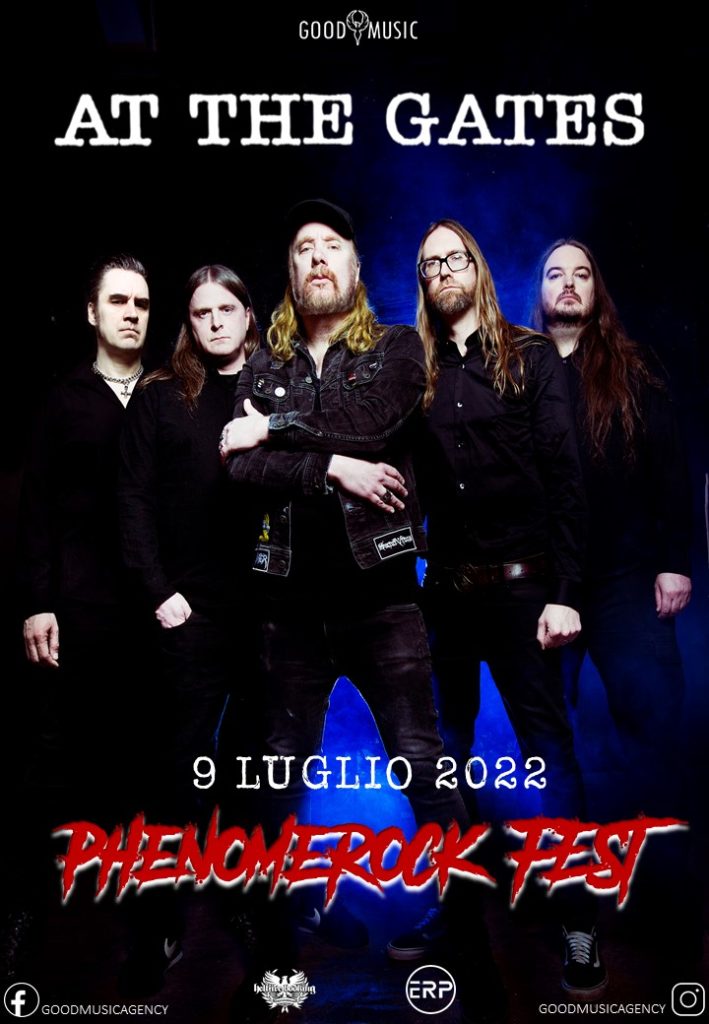 I loro primi due album – The Red In The Sky Is Ours (1992) e With Fear I Kiss The Burning Darkness
(1993) abbracciano un sound oscuro di brutalità a tutto tondo, con atmosfere artistiche in un generale senso di disagio ultraterreno.
Con Terminal Spirit Disease, At The Gates affinano poi il loro sound ed il loro songwriting. Ma è Slaughter Of The Soul, quarto album in studio a rimane un punto di riferimento venerato sia dai suoi creatori che dalla scena metal in generale, nonostante il prematuro scioglimento della band poco dopo la sua uscita.
Nel corso degli anni che seguirono, la reputazione degli At The Gates crebbe e la loro influenza su una generazione di band metal divenne abbondantemente evidente. Un secondo capitolo inizia nel 2008, con una serie di acclamati spettacoli di reunion.
Più veloce e più cattivo degli album precedenti, To Drink From The Night Itself del 2018 ha fornito un'ulteriore prova che l'incarnazione della band nel 21° secolo stava facilmente superando i risultati musicali dei primi anni. Ed anche i successivi spettacoli dal vivo sono stati più intensi e celebrativi senza mai deludere nessuna aspettativa.

Nel  2021, At The Gates pubblicano quello che può essere descritto come il miglior album della loro carriera fino ad oggi. The Nightmare of Being è infatti un concept album che esplora le oscure rivelazioni contenute nella filosofia più pessimista.  Noi siamo pronti ad ascoltarlo e a goderci lo spettacolo il 9 Luglio al PhenomeRock Fest!