SABATO 27 NOVEMBRE 2021 ALLE ORE 20:00
𝗗𝗢𝗕𝗘𝗥𝗠𝗔𝗡𝗡 + 𝗦𝗡𝗘𝗜 𝗔𝗣 + 𝗘𝗫
TheFactory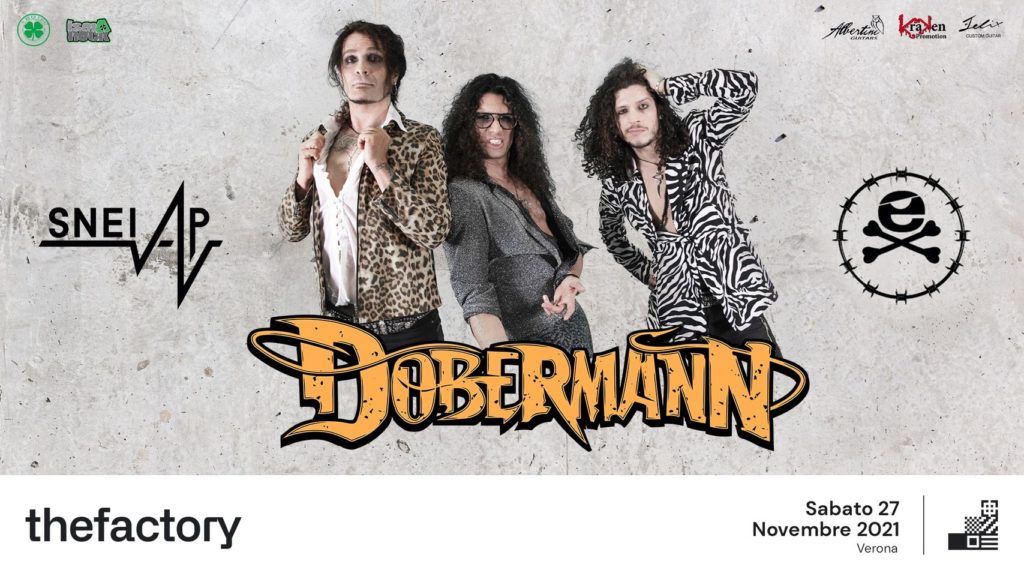 Serata hard rock sleaze in collaborazione con 𝑨𝒔𝒔𝒐𝒄𝒊𝒂𝒛𝒊𝒐𝒏𝒆 𝑰 𝑩𝒖𝒕𝒆𝒊 e 𝑰𝒔𝒐𝒍𝒂 𝑹𝒐𝒄𝒌A chiudere la serata i 𝑫𝒐𝒃𝒆𝒓𝒎𝒂𝒏𝒏
Con un record di 800 concerti e un milione di Km percorsi in dieci anni di attività, hanno un pedigree 'on the road' conquistato metro dopo metro per le strade di mezza Europa, Tre rockers purosangue e uno spettacolo infuocato che non si ferma mai. Per l'occasione presentano 'Shaken to the Core', il nuovo album pubblicato lo scorso Giugno 2021.
La produzione di Alessandro del Vecchio, precedentemente visto in azione con Mr Big e Quiet Riot, è deliberatamente snella ed essenziale; le canzoni sono semplici, dirette e cariche di identità.Prima di loro le 𝑺𝒏𝒆𝒊 𝑨𝑷 una band tutta al femminile con 10 anni di attività alle spalle, una grinta da vendere e un sound coinvolgente. Ad aprire la serata gli 𝑬𝒙 band storica del panorama veronese formato da musicisti con una lunga carriera alle spalle. Aprono le danze con il loro rock diretto e senza fronzoli.
Orari
20.00 apertura porte
21.30 – 22.15 Ex
22.30 – 23.15 Esnei Ap
23.30 – 00.30 Dobermann
Tickets 10€
Ingresso riservato ai soci The Factory: pretesseramento online obbligatorio, inoltra la tua
richiesta al link: https://bit.ly/36ANC0B. Il costo
annuale della tessera associativa è di 5,00 €; il pagamento della
tessera potrà essere effettuato in cassa la sera
dell'evento.
𝗥𝗜𝗖𝗛𝗜𝗘𝗦𝗧𝗢 𝗚𝗥𝗘𝗘𝗡 𝗣𝗔𝗦𝗦 – L'evento si svolgerà nel rispetto delle normative vigenti per il contenimento dell'emergenza Covid-19: in ingresso sarà necessario essere muniti di GreenPass o tampone negativo eseguito nelle 48h precedenti.
𝗠𝗔𝗦𝗖𝗛𝗘𝗥𝗜𝗡𝗔 𝗢𝗕𝗕𝗟𝗜𝗚𝗔𝗧𝗢𝗥𝗜𝗔 – Durante l'evento sarà obbligatorio indossare la mascherina (vedi indicazioni generali:https://www.salute.gov.it/portale/home.html )